Calendrier des événements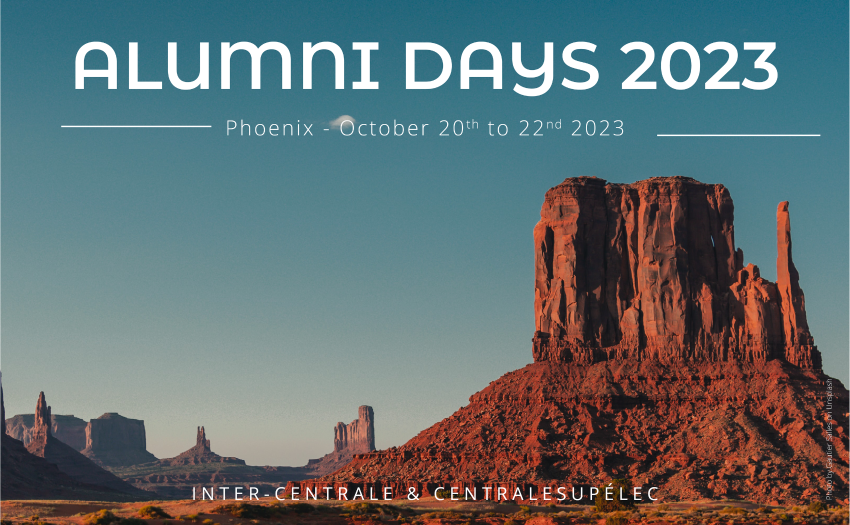 Alumni Days Inter-Centrale et CentraleSupélec 2023 - Phoenix
Groupe "USA"
Les Alumni Days reviennent en 2023 à Phoenix, Arizona !
Du 20 au 22 octobre 2023, retrouvons nous à Phoenix pour le rendez-vous annuel des groupes alumni nord-américain des écoles Centrale et CentraleSupélec.
PROGRAMME
Vendredi 20 octobre
- visite d'entreprises le matin et l'après-midi : NXP Semiconductors, Biodesign Institute de l'Arizona State University, Transdev, Waymo, l'"Initerplanetary Initiative" (https://interplanetary.asu.edu/) et le "Center for Science and the Imagination" (https://csi.asu.edu/) de l'Arizona State University.
- réception (offert) de 17h30 à 19h30 chez Schmooze
Samedi 21 octobre - Skysong
- finale du Start-up Challenge 2023 le matin
- conférences sur des sujets d'actualité l'après-midi :
How Arizona State University has grown to now 80,000 enrolled students & the role of virtual / distant learning
The future of mobility and Artificial intelligence : autonomous vehicles, robotics, human spatial recognition
Biotechnology, genomic research and bioengineering: how Arizona and Phoenix in particular has been transformed in the past 20 years by investments in research, and entrepreneurship
Cyber security : focusing on Data Integrity, Confidentiality, and Availability (the CIA Triad), this panel will challenge some of Arizona's greatest cyber minds to explore what it'll take to bring new technologies like Human Drone Transport to reality
- dîner le soir (à ses propres frais)
Dimanche 22 octobre
- brunch & activités touristiques à Phoenix et aux alentours
Pour s'inscrire, c'est ICI.
Nos suggestions d'hôtel :
1. The Mariposa
2. Element Scottsdale at SkySong
---
Les Alumni Days sont financés par le Centrales–US Education Fund. Pour en savoir plus ou faire un don à la fondation, cliquez ici.
de Vendredi 20 octobre 2023

09h00


à Dimanche 22 octobre 2023

(GMT -7)
ASU SkySong
1475 N Scottsdale Rd
85257 Scottsdale
Etats-Unis
ASU SkySong

1475 N Scottsdale Rd
85257 Scottsdale
Etats-Unis
Complément d'information (parking, Métro...)

https://corporate.asu.edu/sites/default/files/resources/skysong_map_and_directions.pdf
Vous devez être connecté pour laisser un commentaire. Connectez-vous.